According to the 2017 World Economic Forum's Global Gender Gap Report, "Female talent remains one of the most underutilized business resources." In some industries, like finance, this is especially clear.
In finance, as career level rises, female representation declines. Although 46 per cent of financial service employees are women, at the executive level, women only represent 15 per cent.
In April 2020, Equality Check and Finansforbundet launched a collaboration to find more insights about how women and men in finance state opportunities, culture, work/life balance, unconscious bias, and more. The goal is to catalyze change to a working life where all employees experience equal opportunities, regardless of background.
We surveyed over 600 employees from the financial industry (421 women and 202 men), and 14 finance companies are now "live" (5+ reviews) on Equality Check. Here are our findings.
How do women and men evaluate opportunities in finance?
Equality Check and Finansforbundet have measured how employees in finance assess their workplace. Both women and men are generally satisfied with the workplace, but women consistently state that they experience fewer opportunities than men.
Almost 40% of women experience unconscious bias, 3 times as many women as men say that parental leave reduces their career opportunities and both women and men say that management provides less priority to gender equality with measures. Have you contributed yet? It's never too late. Do it here.
Results from finance employees
On average, both women and men in finance are satisfied with their workplace, with an average score of 4.13 and 4.26, respectively. However, there are significant differences in how women and men view the workplace. The results are shown in the figure below. On average, women rated their workplace 0.5 points worse than men in all categories, and this difference is statistically significant (p <0.01).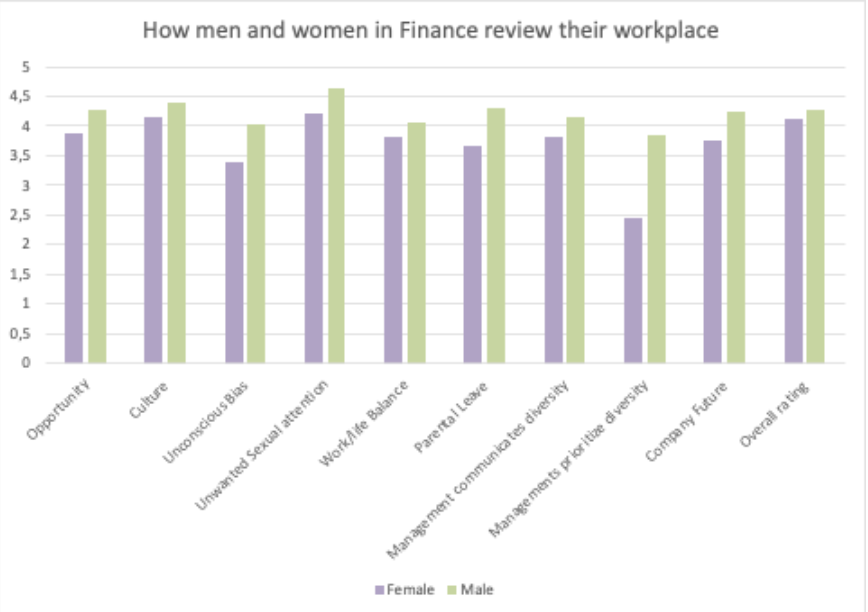 The 3 biggest differences between women and men
1. Whether management prioritizes gender equality through action:
Women score 1.4 points worse than men.
A total of 27% of women respond that they disagree or strongly disagree that management prioritizes gender equality, compared to 16.3% of men.
2. On the question of whether unconscious discrimination occurs:
Women score 0.66 points worse than men.
A total of 38.5% of women respond that they disagree or strongly disagree that they do not experience unconscious discrimination, compared to 14.8% of men.
Women experience unconscious discrimination 2.6 times more often than men.
3. If you find it easy to take parental leave without ruining your career:
Women score 0.63 points worse than men.
Three times as many women respond that they disagree or strongly disagree that they can take parental leave without hurting their career - 16.3% of women and 5.4% of men respectively.
Furthermore, 1 in 10 women replied that they have experienced sexual harassment (11.3%), compared to 1 in 29 men (3.4%)
Differences between financial employees and others
Finance employees consistently score slightly worse on all 9 parameters compared to employees from other industries. On average, the difference is 0.3 points (p <0.001), and the biggest difference is seen in the following three parameters:
Finance employees give 0.49 points worse score if they experience unconscious discrimination.
Finance employees give 0.42 points worse score on whether management prioritizes gender equality.
Finance employees give 0.41 worse scores if they experience a future in the company.
What do the results mean?
Women consistently respond that they feel less included, experience less equal opportunities, and have less faith that they have a future in the company compared to men. Furthermore, women respond that they have a poorer work/life balance and that parental leave to a greater extent limits their careers. In other words; Women have to sacrifice more and have less faith that they will succeed in the end.
This may indicate that the cost-benefit assessment women make is different from men's. This does not mean that women have less ambition than men.
From these insights, we don't know why women feel that they have fewer opportunities or are less confident that they have a future in the company. However, there are several well-documented hypotheses in the literature. One reason may be that women see fewer examples up in the ranks that resemble them, and therefore subconsciously consider it less likely that they will succeed. Furthermore, one explanation may be that younger men more often have access to more informal contact with seniors, and thus more often receive signals that they have good career opportunities through non-formal contact. While women have a greater degree of formal contact with their leaders, this type of communication is less common.
The high proportion of women who say they experience unconscious bias further testifies to various competitive advantages, something that the CORE and Finance Forbundet 2019 report also confirms (Women in Finance - Can't, Can't or Will Not?). The report is based on a qualitative study in which the informants stated that women meet different requirements and that the same behaviour is judged and rewarded differently based on gender. The report also finds that women experience a lower degree of work/life balance and that several women say that taking parental leave reduces career prospects. Women and men do not compete under the same conditions.
What can be done?
There is gradually more and more knowledge about how workplaces should do better at exploiting the potential of all employees, regardless of their unique traits. Several reports point to how diversity increases profitability, productivity, innovation, and creativity in the workplace. To do better, one must know where a problem originates. All employees can help increase data volume and knowledge by evaluating their work completely anonymously at Equality Check. Furthermore, companies can also measure and track their development, and get specific tips for solutions through our paid tools.
One piece of advice is to provide equal competitive incentives through working conditions and parental leave that do not affect employees differently. Furthermore, one can have more formal requirements for promotions and better processes in regards to who gets new opportunities and why.
Learn more- take the Equality Check product tour →
Equal opportunities mean equal opportunities - not just in regards to gender. In recent weeks following the #BlackLivesMatter movement, attention has spiked around unconscious and conscious discrimination on the basis of ethnicity. Equality Check measures the entire diversity perspective and has recently entered into a collaboration with some of Norway's leading ethnic diversity organizations; MAK, Minotenk, and Flyt Frem. Together with the business community, we will work to create equal opportunities, regardless of your unique identity and traits.