By Cecilia McAloon
"There are fewer female TV screenwriters working in comedy than any other medium - though the figures for TV drama writers aren't great either - but I use that as grist to the mill. It's all the more reason to push myself towards getting my own original shows away."
Women have been shut out of top screenwriting jobs for over ten years. Writers' Guild surveys reveal that across the BBC, ITV, Channel 4, Sky, and Netflix, less than a quarter of dramas were written by women in the last five years. And only 11% of working comedy writers are female. Miranda Walker is one of the few women who is a working writer of comedy. For the last decade she's worked as an author and scriptwriter for stage, TV, and radio. She recently turned her attention towards 'Face It', two comedy drama monologues about how women feel about their faces in a 'swipe-right world' starring 'The Theory of Everything' actress Abigail Cruttendon. Despite her success, it's a role that Walker came to relatively late.
Walker began her career in childcare and education where she wrote textbooks for people working with children. It wasn't until she was a published author through this unconventional route that Walker gained "the confidence to acknowledge that I wanted to write scripts, especially comedy. I didn't know anyone in the industry and didn't know where to start. I just knew I wanted to do it too much not to try."
For Walker, a big part of recognising that she wanted to write comedy came down to building up her own self-confidence to be able to state: "I think I can make people laugh". It's a statement that women are less inclined to make. In fact, there are a lot of people who think that women simply aren't funny - researchers have even tried to prove it (seriously).
While contending with systemic sexism and social conditioning that keep women out of comedy, Walker has also faced unconscious bias on her journey to becoming a writer as someone with a visible facial difference. Unconscious bias is no small obstacle, especially in freelance industries like film, TV, and radio which so rely heavily on your ability to network. To learn more about her journey into screenwriting and the challenges she has faced along the way, I spoke with Walker on behalf of Equality Check. And for those wanting to follow in Walker's steps, stick around for some industry insight and advice.
How did you get started in your career?
I did some short courses, went to lots of industry events and felt my way around how things work at the same time as starting to write scripts. I entered a BBC Writersroom competition and won quite early on. They put my script on the website for a while and I was really encouraged. Nothing happened for ages after that, but I kept holding on to the feeling that perhaps I could do it.
Then I joined the Writers' Lab at my local theatre, the Cheltenham Everyman. Actors read our work-in-progress each month, feedback was given and there were opportunities to start getting short pieces selected for new writing nights. I learnt so much by having my work in front of an audience. Particularly with comedy, as the audience instantly tells you what's funny, and what isn't!
The Creative Director got to know my work and started commissioning me for full length plays. When the Everyman took one of my plays to London - just for a weeklong run - I invited industry guests and that's how I got my first agent. From there, I expanded into radio, children's TV and mainstream TV.
Do you feel your identity drives or informs your work?
Yes, I think the fabric of who you are is woven into every script, even when you're writing characters or a story far removed from your own life. Your perceptions give rise to your unique writing voice, and the way you perceive things depends on who you are and what you've experienced.
My identity also drives my work because I want to tell stories that matter to me, especially where I see underrepresentation. I recently wrote the FACE IT comedy drama monologues for BBC iPlayer (released on 2nd September), which explore how two women feel about their faces in our swipe-wipe world. One of the characters, Leonie, has a visible facial difference (we used to call it 'disfigurement'), as do I. While Leonie's story is not mine, it's probably the most I've drawn on my own identity in a clearly recognisable way. The piece is stronger for it. In the second monologue, a character called Abbey is sick of gender biased ageism at work and is fighting back. I see middle aged women being minimalised at work. I had something to say about that.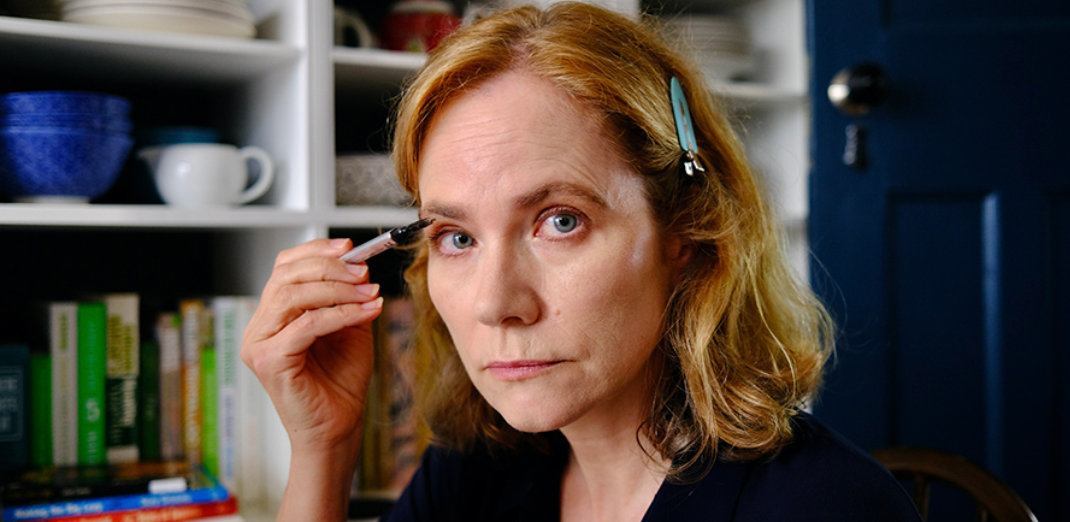 What unique challenges or opportunities have different areas of the industry presented for you?
Recently, writing for the stage has led me to write musicals. I've always loved them, and writing book and lyrics is an absolute joy. I love the development process, the collaboration, the rehearsals. Covid has brought a very tough time for theatres and productions, but hopefully things will recover. My last project was my favourite – Fly Eddie Fly, about Olympic ski jumper Eddie the Eagle, which starred the real Eddie himself as interactive narrator!
On radio I've written for topical comedy shows including The Now Show and The News Quiz, which are written incredibly fast in just two days. So the challenge there was to write quickly enough. It's a real lesson in not censoring yourself though, because there just isn't time to worry about whether your gags are good enough – every two hours you have to get them to the producer.
It can feel as though there's a lot at stake when you first start writing comedy, because 'I think I can make people laugh' is quite the statement. Owning it took me a little while. There are fewer female TV screenwriters working in comedy than any other medium - though the figures for TV drama writers aren't great either - but I use that as grist to the mill. It's all the more reason to push myself towards getting my own original shows away.
All my narrative work has light and shade, and I do enjoy writing drama as well as comedy. Learning to achieve a balance and switching between emotional dramatic moments and lighter moments while holding on to the integrity of the piece is never easy, but it's a challenge I enjoy.
What are the biggest challenges women, and women with disabilities, face when working within the creative industries?
I think unconscious bias has a lot to do with it. People like to work with people they've worked with before – those people are experienced and they are known and trusted. That's understandable. But if say, a writers' room is not diverse to begin with, this approach perpetuates it, and limits authentic diverse storytelling. It puts up huge barriers.
What systematic or policy changes would you like to see within the industry?
I would love to see more diversity in terms of decision makers, such as commissioners. I think diversity schemes can be hugely valuable when they lead to work. But it's important to remember alongside that there are experienced diverse writers who are ready now for professional work.
Is there anything we as individuals can do to create change?
The Writers' Guild of Great Britain is championing diversity and campaigning for change for female writers and all minority groups, so I recommend joining. There are student membership and candidate membership options for writers not yet working.
DANC (the Disabled Artist Networking Community) is an organisation helping to break down the barriers for disabled artists in any art form, including writers and actors. There's power in numbers and it's free to join and take part in their many fantastic Zoom events. This year alone there have been events with guests from The Royal Court, The Globe, Channel 4, BBC Children's, ITV etc, and how-to sessions on important topics such as pitching.
Do you have any advice for women thinking of entering or trying to move up in these industries?
Believe in yourself and don't self-block. Every time you think 'I won't approach that person, they won't want to talk to me,' you block your own progress. Every time you consign a script to the drawer instead of sending it out because, 'it's probably no good', you are in your own way. The same applies when you don't attend that event or start that course because you 'won't fit in' or you 'might not manage it'- you are being your own biggest obstacle. Be brave, move forward. And if that person doesn't want to talk to you, cross them off your list and move on to the next one. If you do get some negative feedback on your script, great, we all need feedback to improve. Pick out the helpful notes, rewrite, and send it to someone else. Or keep it in mind when writing your next script. There will always be feedback, there will always be notes, no matter how successful the writer - they just start to come from a director, producer, script editor or broadcaster instead.
Do you feel hopeful for the future of gender parity within the industry?
I do, because I feel it becoming more untenable for things to remain the same, as organisations like the BBC are forced to be more transparent about pay etc. But it's truly shocking that we're not there already and sadly, I won't be holding my breath...
Throughout your career, do you feel like you've had role models?
Yes, mentors have definitely influenced my career and still do.
Paul Milton, the Creative Director at the Everyman Theatre believed in my writing and guided me as I established a career. He answered (still answers!) a million questions, gave practical help, I even hung out at the back of his rehearsals watching how he and a cast worked with a text. He's recommended me for work and introduced me to contacts.
I'm currently on the Women in Film and TV Mentoring Scheme for mid-career women, and I'm very grateful to have the amazing Fiona McDermott, Head of Comedy at Channel 4, as my mentor. Tracy Forsyth, a confidence coach who runs the scheme in England is also hugely inspirational to me.
I have many role models, some of whom I'll never know – industry people whose work I admire including Victoria Wood, Kay Mellor, Jack Thorne, Emma Reeves, Rosie Jones and Ash Atalla.
Do you consider yourself a role model?
Yes, I'm currently a mentor for ScreenSkills, mentoring a new screenwriter. I was a lecturer on the Creative Writing BA at University of Gloucestershire, and I still return now and then as a guest speaker on the course, and on their new MA in Screenwriting, talking about breaking into the industry.
Is there more pressure on women or people with disabilities to act as advocates and role models?
There is, but I'm glad to do it. For instance, on Face It, the producer and I cast cracking actor Crystal Marshall as Leonie. She has an authentic visible difference and it was her first role on leaving drama school. We were proud to give Crystal her first break in a piece that chimes with her own face equality advocacy work. There are great things in her future, I'm sure.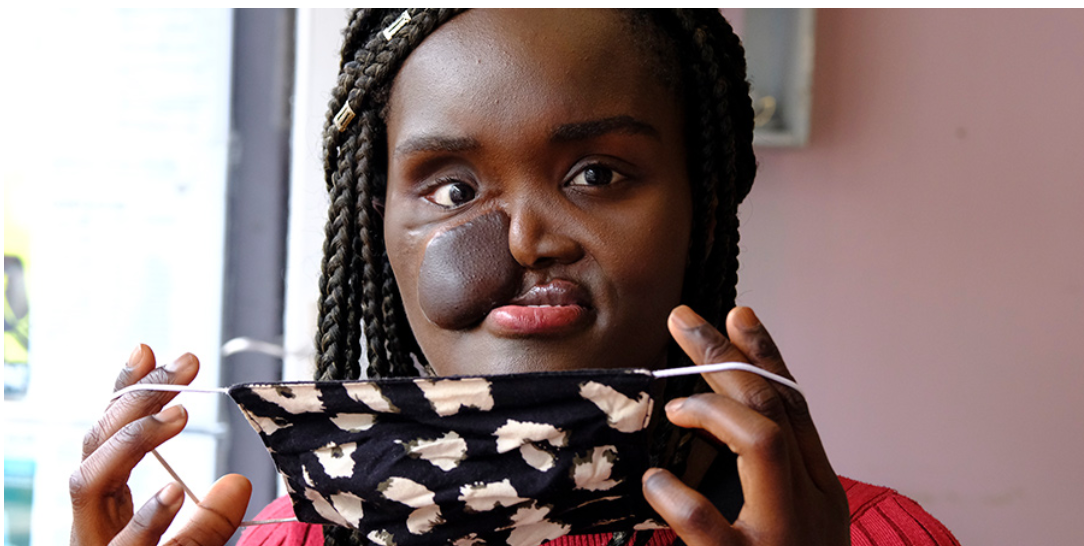 In the past, it has been impossible to speak out against inequality at work. Help Equality Check change that by taking 2 minutes to leave an anonymous review of your workplace. Your voice is powerful. Be #SeenAndHeard
About the author:
Cecilia McAloon
Cecilia has a double first in English Language & Literature from the University of Oxford. Before joining Equality Check, Cecilia co-founded an award-winning film production group and worked at the Oxford University Filmmaking Foundation. Cecilia has a long-held passion for ED&I and hopes that her work at Equality Check will have a lasting impact on creating equal opportunities for the UK workforce.